Sjanger: Roman/Fantasy
Først utgitt: 2013
Denne utgaven utgitt: 2013
Format: Lydbok
Lest av: Neil Gaiman
Forlag: Harper Audio
ISBN: 9780062255686
Spilletid: 5 timer, 48 minutter
Kilde: Kjøpt selv
Litteraturpriser: Goodreads Choice Awards Fantasy (2013), Specsavers Book of the Year (2013)
~~~~~~~~~~~~~~~~~~~~~~~~~~~~~~~~~~~~~~~~~~~~~~~~~~
Forlaget om boka:
Sussex, England. A middle-aged man returns to his childhood home to attend a funeral. Although the house he lived in is long gone, he is drawn to the farm at the end of the road, where, when he was seven, he encountered a most remarkable girl, Lettie Hempstock, and her mother and grandmother. He hasn't thought of Lettie in decades, and yet as he sits by the pond (a pond that she'd claimed was an ocean) behind the ramshackle old farmhouse, the unremembered past comes flooding back. And it is a past too strange, too frightening, too dangerous to have happened to anyone, let alone a small boy. Forty years earlier, a man committed suicide in a stolen car at this farm at the end of the road. Like a fuse on a firework, his death lit a touchpaper and resonated in unimaginable ways. The darkness was unleashed, something scary and thoroughly incomprehensible to a little boy. And Lettie—magical, comforting, wise beyond her years—promised to protect him, no matter what.
~~~~~~~~~~~~~~~~~~~~~~~~~~~~~~~~~~~~~~~~~~~~~~~~~~
Åååh. Neil Gaiman. Du er så flink.
En middelaldrende mann finner seg selv i sitt gamle nabolag etter å ha deltatt i en begravelse. Huset han vokste opp i er borte for lenge siden, men gården i enden av veien er fortsatt der. Her traff han på den bemerkelsesverdige familien Hempstock. Minnene som barndommen skyller over ham når han ser den gamle dammen – eller havet som Lettie kalte det – og leseren tas med tilbake til protagonistens barndom samtidig som han selv husker mer og mer av det som hendte.
Mitt aller første møte med Neil Gaiman var tegneserien Sandman. Da var jeg på ungdomsskolen og hang på biblioteket etter skoletid. I samme periode snublet jeg for øvrig også over Cages av Dave McKean, og sammen satt disse to i gang en evig kjærlighet til tegneserieformatet (takk Gaiman og McKean!). Siden da har jeg lest flere bøker av Gaiman, og jeg har fortsatt til gode å bli skuffet. I The Ocean at the End of the Lane beviser Gaiman (igjen) hvor dyktig han er som forfatter.
Det er ikke lett å skrive om bøker man liker godt. Det er en overhengende risiko for misbruk av adjektiver og metaforer, så jeg vet ikke helt hvor jeg skal begynne, jeg. Jeg likte hele romanen. Fra ende til annen. Det er, slik jeg ser det, definitivt en fantasy-roman, men det kan leses som noe mer enn det; som en fortelling om et barns fantasi i møte med en mindre heldig virkelighet. Gaiman er en av de forfatterne som enkelte bokfolk helst har lyst til å flytte ut av den «mindre seriøse» fantasy-sjangeren og over i den litt mer «litterære» (les: fancy) magisk realisme-sjangeren (fantasy er ikke useriøst! Makan!).
For min del er Gaiman nesten en sjanger for seg selv. Han klarer å skrive like godt for både voksne og barn, og flere av bøkene hans kan leses av begge grupper. I denne boka beskrives barndom og oppvekst på en så vakker måte; så lett gjenkjennelig og familiært. For ikke å snakke om sårt. Observasjonene gutten gjør skrives tidvis på en måte man bare kan forstå om man er voksen, samtidig som at leseren kjenner igjen mange av følelsene man har og tolkningene man gjør som barn. Gaiman kikker nærmere på den brutte koblingen mellom det å være barn og det å være voksen. Alt man så og tenkte og gjorde som barn, og hvordan de samme opplevelsene kan tolkes når man blir voksen.
Jeg tror at jo eldre man er, jo mer vil man like denne romanen. Nå er jeg tross alt ikke kommet lenger enn halvveis gjennom tjueårene, og jeg har ikke hatt tid til å utvikle samme type nostalgi og savn man kan få for barndommen når man blir eldre. Jeg mistenker at denne romanen kan få til å trigge slike følelser hos mange. Samtidig tillater den seg et dypt mørke – man kan fint nyte den vakre utsikten til  «havet» bak huset til Hempstock-damene fra en benk, men hopper man uti, introduseres man raskt for et dypt mørke. Romanen er litt sånn.
Han har hentet erfaringer fra sitt eget liv i denne romanen. Akkurat hva som er hva er det ikke nødvendigvis like lett å få øye på, men jeg synes du skal lese anmeldelsen hans kone skrev av boka, for den er veldig fin. Også er det unektelig noe spesielt når forfatteren leser sine egne bøker, som Gaiman i denne utgaven gjør. Da høres karakterene antageligvis ut akkurat sånn som han skrev dem, og handlingen får et helt nytt og nærmest umerkelig lag av detaljkunnskap om lesetempo og dialog. Anbefales varmt videre. Den er å få tak i på norsk under tittelen Havet i enden av veien (Vendetta forlag, 2013).
Neil Gaiman snakker om boka:

Andre bloggere om boka:
Karis bokprat
Det beste i livet er gratis
Born to be a reader
Knirk
Bokelskeren
Bentebing's Weblog
Draumeverda
Betraktninger
Bokstavelig talt
Siri vil
Av en annen verden
Maria i mengden
LeseHorden
SerendipityCat
Lattermilds bokblogg
Om forfatteren: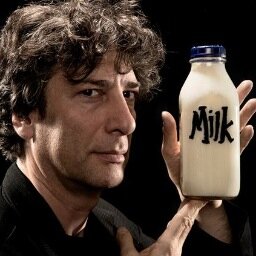 Neil Richard MacKinnon Gaiman (f. 1960) er en anerkjent britisk forfatter, født og oppvokst i England men bosatt i USA. Han har et stort antall fortellinger på samvittigheten, men er kanskje best kjent for Sandman, Stardust, American Gods, Coraline, Neverwhere og The Graveyard Book. Gaiman-familien har røtter fra Polen og andre Øst-Europeiske land, og det var bestefaren hans som tilslutt slo seg ned i Hampshire, England. Han var gift med Mary McGrath fra 1985 til 2007, og har barna Michael, Holly og Madeleine med henne. I 2011 giftet han seg med Amanda Palmer. Han er også nær venn med sangeren Tori Amos, og de to refererer stadig til hverandre i arbeidene deres.
Wikipedia | bibliografi | hjemmeside | goodreads | twitter